Using metal wire to cut the metal shape that is called
Wire Cutting
(Electrical Discharge Machining). This machining process is available at SuNPe, and it is typically applied to machine steel mold, metal parts with complex shape or features, high hardness metal pieces and more.
The Slider of Steel Mold
:the main body of slider was machined by
CNC
process, but the intensive feature as shown can't be done by the knife tool of CNC, it was finished by
wire cutting
. We can use metal wire to cut the feature easily and reach consistent space.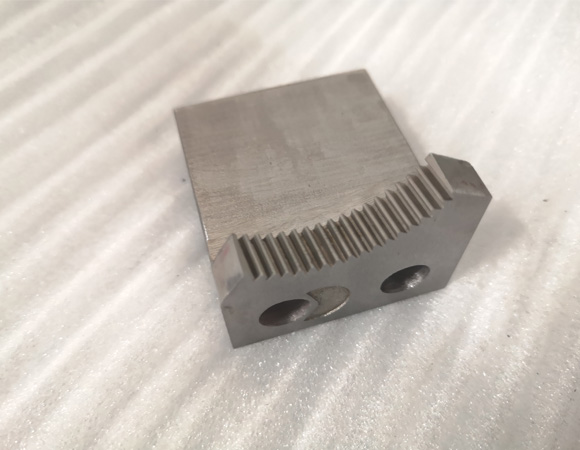 (slider of tooling, Wire Cutting, CNC Machining)
Assembled parts:
We noted that oblong part and stick require fine precision and they need to be fitted well without any large clearance between them, so we used wire cutting to make "T" groove for oblong part, and cut the whole shape for the stick to make each side straight, we are able to make them and remain tight tolerance for perfect assembly.

(lifter of tooling, assembly, fine precision, Wire Cutting)
Benefits:
1.Wire cutting can be applied to various conductive metal material
2.Reach fine precision
3.Achieve complex structure and features
4.Perfect natural finish without any burrs
5.Reduce material damage